A few words about the visit to the exhibition Floralies in Nantes
28 Μαϊου, 2019
A few words about the visit to the exhibition
Floralies in Nantes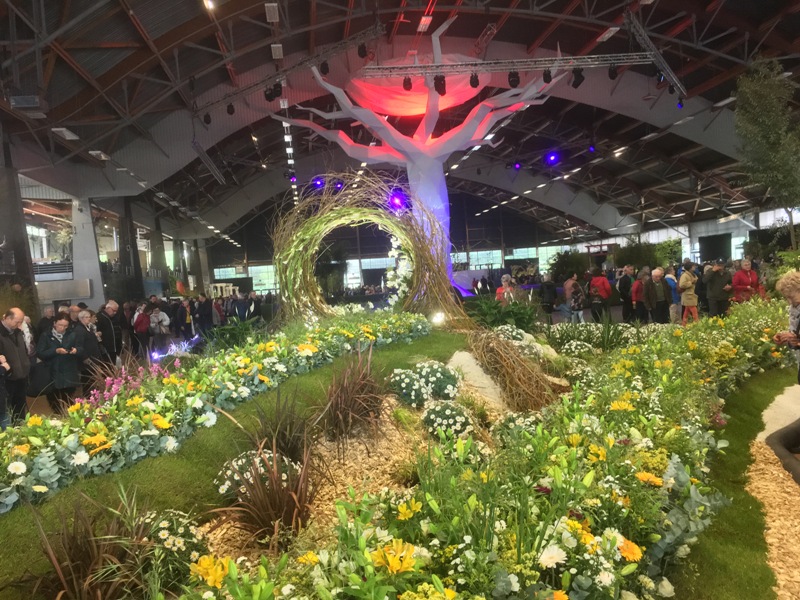 The Floralies Internationales and Green city Nantes form a beautiful combination Already at the early hours of the 12th Floralies Internationales thousands of people admired the beautiful arrangements of flowers and plants on the 45000aqm exposition in the Parc des Expositions in the French city of Nantes. The organisers expect over 300.000 visitors. The exposition area is very attractively situated near the borders of river Erdre and next to a beautiful Rose garden.
The unifying theme is "Flowers to live" and decline the sentence of French philosopher Montaigne: "If life is only a passage, on this passage at least sow flowers". Among the exhibitors are landscape architects, architects, designers, florists, visual artists, but also institutions, national and international historical monuments, countries, regions, national parks and recognized associations and organizations. They are divided over 6 Halls and cover 7 ornamental atmospheres presented inside and outside, telling the cycle of life: Innocence, Carelessness, Learning, Passion, Plenitude, Wisdom and Spirituality.
Next top the many French exhibitors there were - sometimes impressive - stands from South Africa, Bangladesh, Bhutan, Cameroon, Canada, China, Germany, Guadeloupe, Guinea, Italy, Ivory Coast, Japan, Martinique, Myanmar, Nepal, Pakistan, Polynesia (French), Qatar, Somalia, Taiwan, United States and Yemen. "The Tree of Life", a symbol. The Grand Prix of Honor was awarded tot 4 exhibitors: Collective presentations France: Collective presentations foreign exhibitors: Pakistan; Individual presentation (France):Agnes and Lucien Vevriero and Individual presentation foreign exhibitors: Regional Parc of Martinique Located in the heart of the Grand Palais under the sign of Spirituality, this monumental sculpture about 15 meters high, dressed in sounds and lights is really one of the big elements emblematic of the event.
Nates is not only the host of the Floralies which are held every 5 years, but also the first Green city of France. Nantes was a well-known industrial and port city in the early years. Nantes has become a green metropolis for the past 20 years. Every inhabitant has 57 m² of green space and lives within a radius of 300 meters of a green area. Nantes is known as one of the best green cities in the world. In 2013, Nantes was the first French city to call itself the greenest city in Europe, or the prize for 'European Green Capital'. The city is very concerned about environmental pollution and is tackling this issue hard. The city is characterized by more than 100 artistic parks and (botanical) gardens, but there are also vegetable gardens in the city center. These allotment gardens are gaining momentum, with more than 1,000 plots in 2019. The Floralies in Nantes are open till May 19th.
For information:
http://www.comite-des-floralies.com/eng